Professional basketball goal, folded measures 5300x2025mm
PROFESSIONAL BASKETBALL GOAL, FOLDED MEASURES 5300X2025MM #BAMUE012
Professional TP SPORT basketball. Can be raised and lowered with an electric hydraulic system or by tension spring mechanism.
Constructed as per norm FIBA D=9906 and norm UNE-EN 1270:2006 type 1 and 8 class A-B-C-D-E, made in steel structural tube, composed by a base with two double vertical poles and a horizontal arm which fixes the rim. All of it attached through axis with directional bearings, being auto lubricated and with a special security metallic support.
The support base of the basketball goal is particularly very stable and for its movement has 4 wheels diameter 200mm with roller bearings, the front ones are fixed and the rear ones are rotational to allow an easy move. The horizontal arm which supports the rim is made of structural double tube and coupled through welding, giving the enough rigidity for the game. At the backside has thread levelers for the perfect equalisation and can be easily placed at the basketball court. The basketball goal has tensioned springs for its manual elevation with a security telescopic bar anchored at the front and rear pole with 3 safety latches, one for the basketball game, mini basket and for its movement and storage.
The backboard incorporates a metallic frame for its reinforcement with special fit for the ring.
It is foldable to ease the storage and incorporates demountable protection cushioned pads at the front and lateral of the basketball goal.
| | |
| --- | --- |
| Extension | 3.25m |
| Folded measures | 5300x2025mm |
| Backboard | 30mm |
| Elevation | Spring |
| Rim | FIBA standards |
| Net | Braided |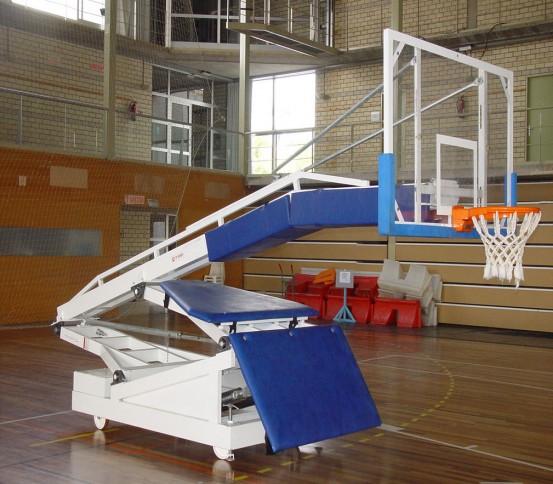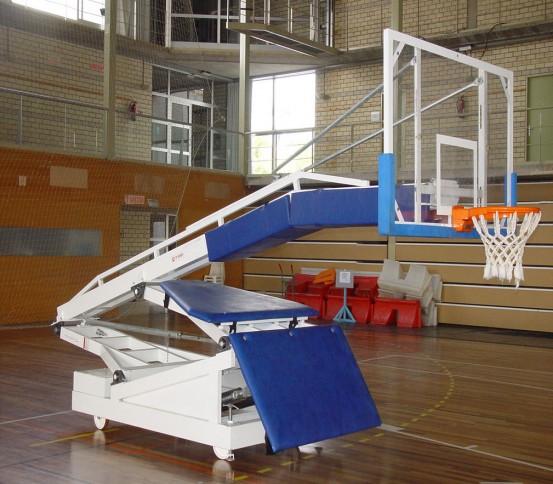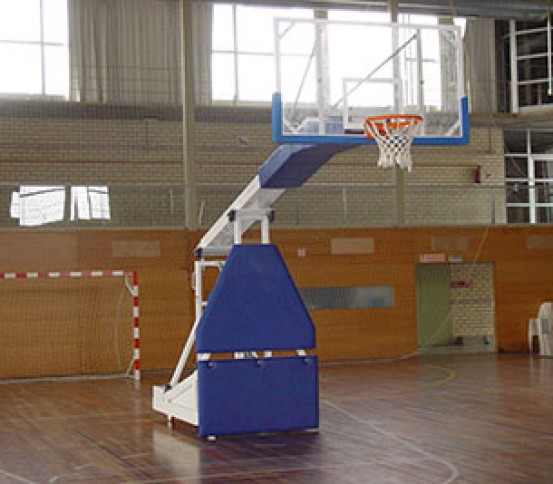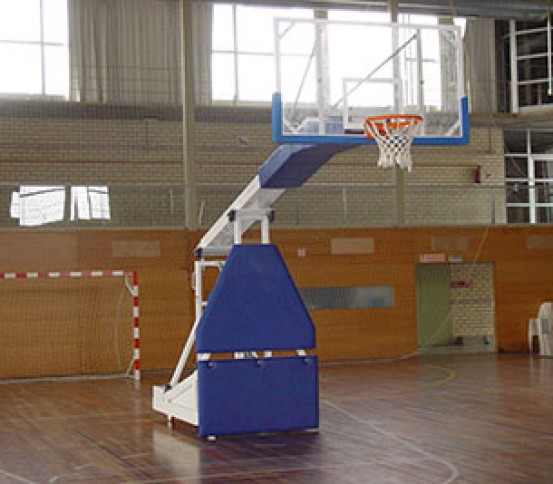 Images may not exactly match the displayed reference
Download company certificates